I am so proud to be serving as your Mayor. I first ran for office to build bridges and show that local government can make a difference in people's lives. As Mayor of Santa Rosa, I'm able to have an even greater impact for our community.

Listening to residents, local business owners, city staff and community stakeholders, we have a governing program which enables each of us to contribute to making our community better. With a new city manager, and soon a new city attorney...
We are moving Santa Rosa forward on these priorities:

Delivering Housing for All
⁃ Equitable and sustainable housing
⁃ Low income, workforce, mid-income, as well as market-rate housing


Reducing Homelessness and Its Impacts

Ensuring a Healthy and Safe Community for All

Promoting Economic & Community Vibrancy with Fiscal Stability

Improving and Maintaining Sustainable Infrastructure, including Roads, Sidewalks, Parks and more

And we're just getting started! Working in coordination with my City Council colleagues, we are addressing a backlog of actions delayed by the pandemic and fires, and we're looking ahead at a brighter future for all of Santa Rosa.
That's why I'm so excited to launch my campaign for reelection. I invite you to join us in this work.
I am grateful to already have early endorsements from local leaders State Senator Mike McGuire, CA Assemblymember Damon Connolly, former CA Assemblymember Michael Allen, Sonoma County Board of Supervisors Chair Chris Coursey, Sonoma County Supervisor James Gore, Sonoma County Supervisor Susan Gorin, Sonoma County Supervisor Lynda Hopkins, Sonoma County District Attorney Carla Rodriguez, Santa Rosa Vice Mayor Dianna MacDonald, Rohnert Park Mayor Samantha Rodriguez, Cotati Council Member Sylvia Lemus, Rohnert Park Council Member Jackie Elward, North Bay Labor Council, North Bay Building & Construction Trades Council and Teamsters Local 665.
If you'd like to add your name to my growing list of endorsers, please sign up here. No one can run for reelection or do this job alone, and I need your help as we grow this campaign together. Please sign up as a Volunteer too, including posting a sign when we get closer to Election Day.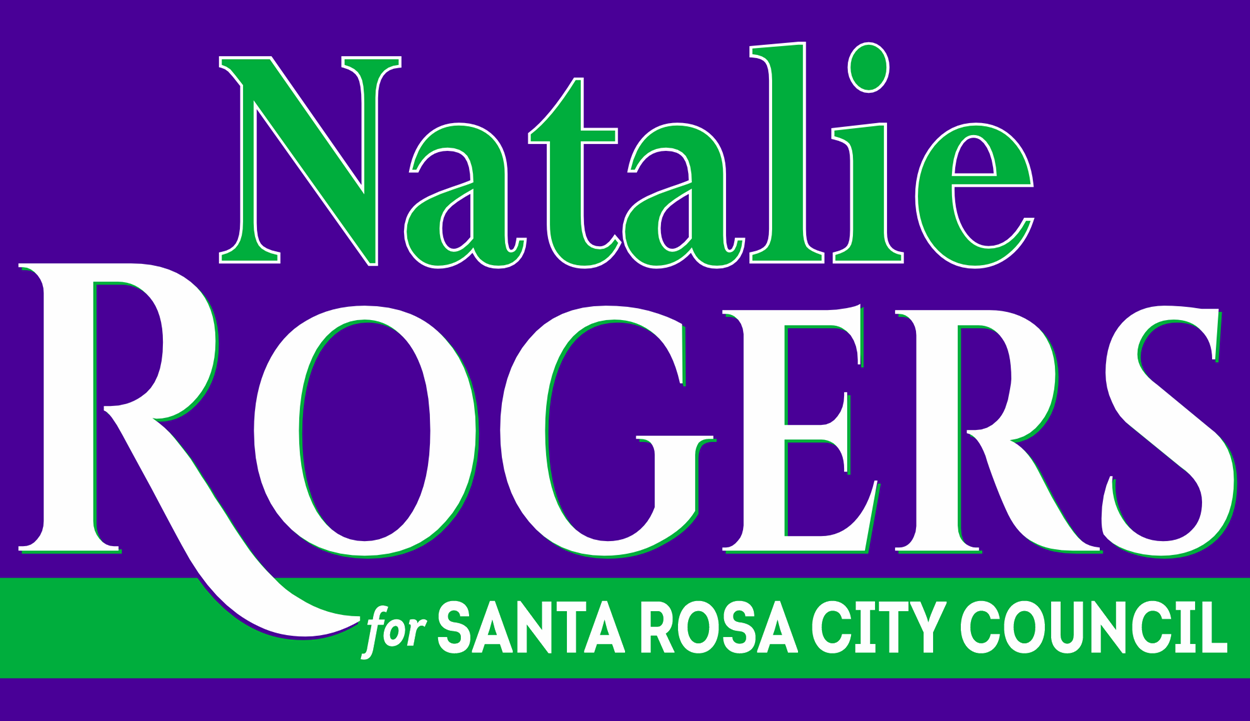 Please, if you have ideas about how we can improve our city, I want to hear from you. You can email me at NatalieRogersforSRCC@gmail.com. I am thankful to be on this journey with you.

Thank you,
Natalie Rogers
Santa Rosa Mayor and City Council Member, District 7



Curious if you live in the newly redrawn District 7? Here's where you can look up your address.